Ok, remember, I'm totally new to this blogging thing. So, bear with me if I screw this up!
I just saw this on another crafting blog.
Here are my answers to HOO ARE YOU?
1. Are you married/in a relationship/single? For how long?
Yes, I am married to my college sweetheart, and have been married for a little over 15 years now!
2. What do you do for a living? Do you enjoy it?
For a living? I couldn't make a living on my job, but I still love it! I'm mostly a stay-at-home mom, but work part-time as a preschool teacher. I have a Masters in elementary education, and once worked as a second grade teacher. However, four little ones came along and I've been mostly home ever since. Teaching preschool is fun and allows me to make fun plans and getting my "teaching itch" scratched. :-) I would like to start up an etsy store at some point... but haven't quite gotten to that point yet.
3. In what state do you live? Where were you born and raised?
I was born and raised near Pittsburgh, PA. After marriage, we lived in Maryland, and now in Virginia.
4. Do you have children? If so, how many? If not, do you want them?
I do have a few kids. Four to be exact. Two boys; two girls. The first three are biological, and the last child was adopted from China.
5. Who is your favorite blogger to follow and why?
It's way too hard to pick a favorite blogger! I just discovered the whole decorating/crafting blogging world a few months ago, and I'm hooked.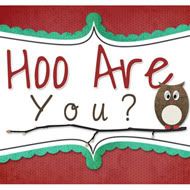 PS... I think I figured it out!!